Curbside pickup instructions for Brisbane international terminal
Follow the below steps when executing a curbside pickup from Brisbane International Terminal (Ground Transport Parking Area).
1. Park your vehicle at the service centre, or in Ground Transports central parking area.
2. Monitor the incoming flight you are at the airport to meet.
3.  When your flight lands send a text message to your client (to the mobile phone number in the booking notes)
Your initial text message should go something like this;
Hey Ginger, Fred here, your driver today. Reply to let me know your phone is on and that we are in contact.
4. If you do not receive a response from your initial text message (within 5 minutes of sending) call the client immediately.
Your phone script should go something like this;
"Hey Ginger, Fred here, your driver today… this is a courtesy call to confirm you received my text message…"
5. When you receive a reply or response send them a follow-up text message with curbside pickup instructions. Your second text message/instructions should go something like this;
"Nice to meet you, Ginger. Let me know when you are ready. If you turn left out of customs, walk past THE COFFEE CLUB towards the Brisbane City end of the terminal. Exit the terminal and walk down the ramp to Ground Transport parking. I will be at the bottom of the ramp in approx 5 minutes from when you ask me to leave. I am driving a white branded vehicle with rego plates XXX-XXX. See you soon. More detailed instructions are here should you need them: Meeting Spot Photo
6. Wait for your client to message you with a nod to come over and pick them up. Use your discretion here and check Google maps to make sure there are no delays into Ground Transport at the International Terminal.
7. If there are delays head straight over and park if you arrive before the clients do.
8. Follow the gold arrows in the image below. Your clients should be waiting at the cul-de-sac (where the red box is or close to it).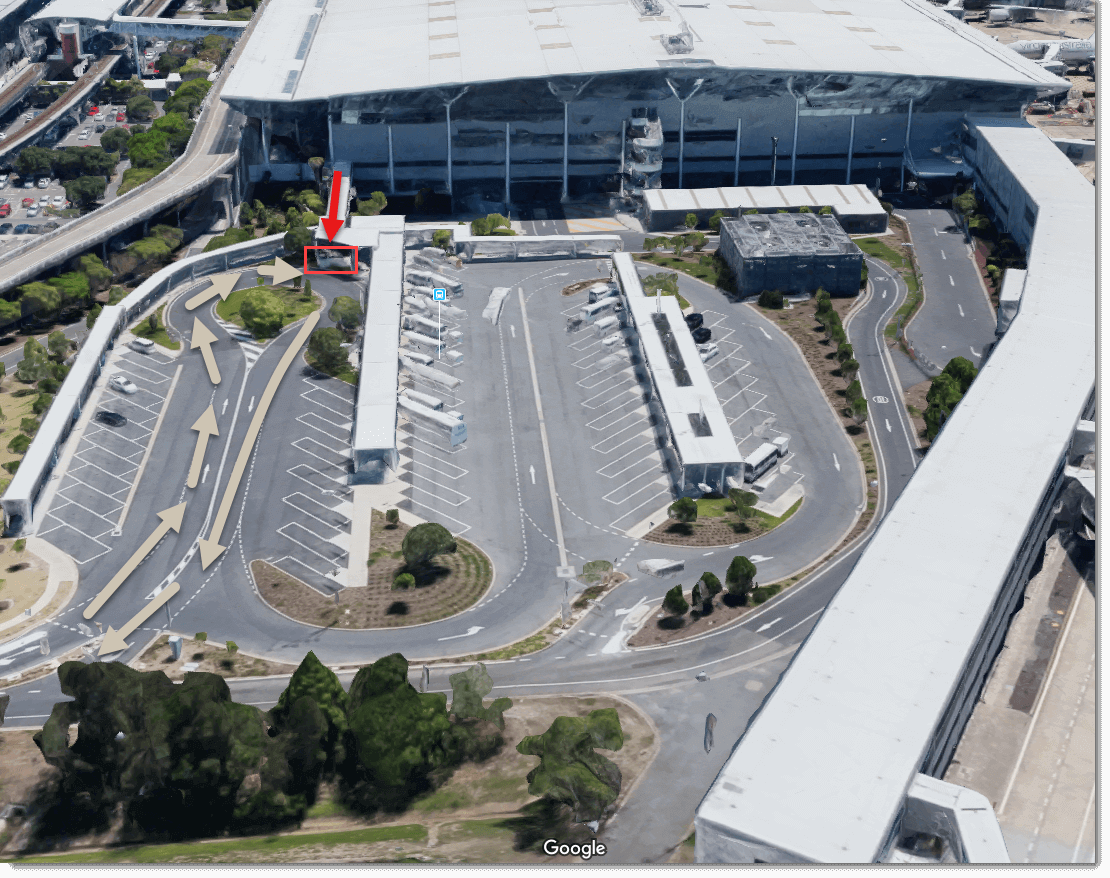 getting from brisbane service center, to ground transport parking International terminal
1. Exit the service centre and turn left, head south-east on Nancy Bird Way towards the International Terminal (see white arrows above image).
2. Enter the roundabout and take the second exit to continue straight, following the arrivals sign, staying in the right lane.
3. You will pass the Departures entry road / ramp on your right. The next right turn will be signposted "No Entry, Authorised Ground Transport Vehicles ONLY" (that's you).
4. Turn right at this sign (keeping the sign to your left) and continue up the ramp. You should see the International Arrivals hall through the glass windows on your left.
5. Keep driving through the terminal (undercover) and down the ramp on the other side along Arrivals Road. 
6. Follow the orange line in the image below to see where you turn into the Ground Transport parking area.
7. The boom gate at the end of the yellow line will open for you because your vehicle is fitted with an electronic Brisbane Airport Operator tag.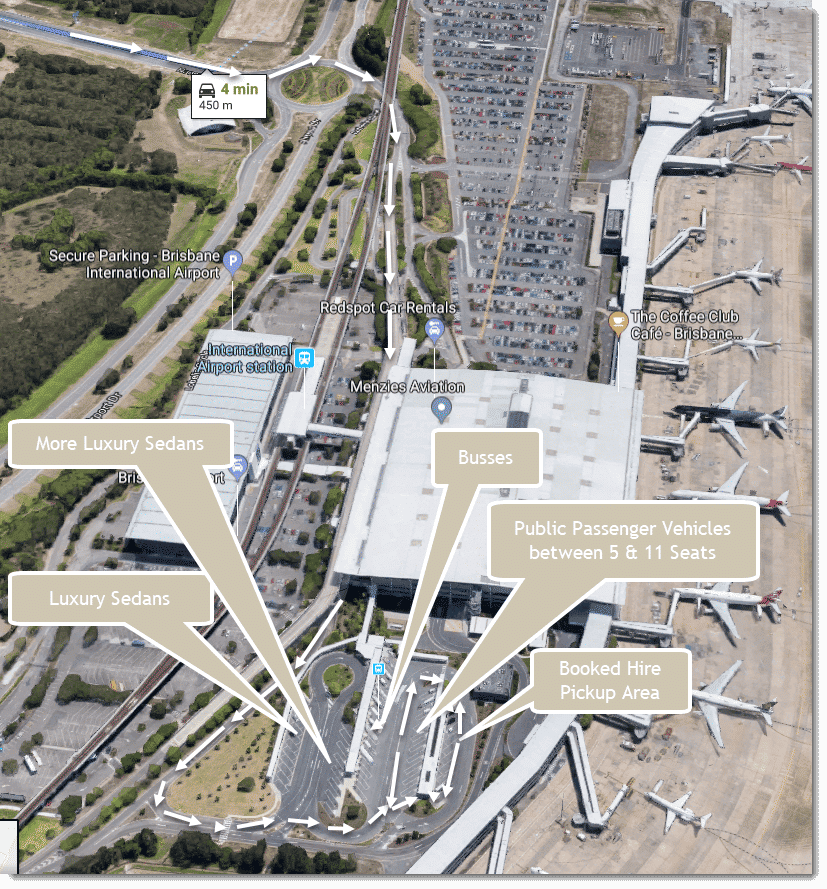 PLAN B.
If your client has not replied to your text message or phone call within 10 minutes of you sending your first message this transfer becomes a meet and greet immediately.
1. Drive straight over to Ground Transport.
2. Park your vehicle in the allocated parking area for your vehicle type.
3. Walk up the ramp into the arrivals hall, then stand in front of the Vodafone shop.
4. Hold up your name board with the client's name on it just as you would if performing a client meet and greet in the first place.
5. All that matters now is that you recover the pickup by being in front of the Vodafone shop when your client walks out of customs and see their name on your name board.
"Remember if your clients walk past the Vodafone shop before you are there with their name on a name board…they will walk on by. Unless you know what they look like you won't find them until they turn on their phone to call the office looking for you…"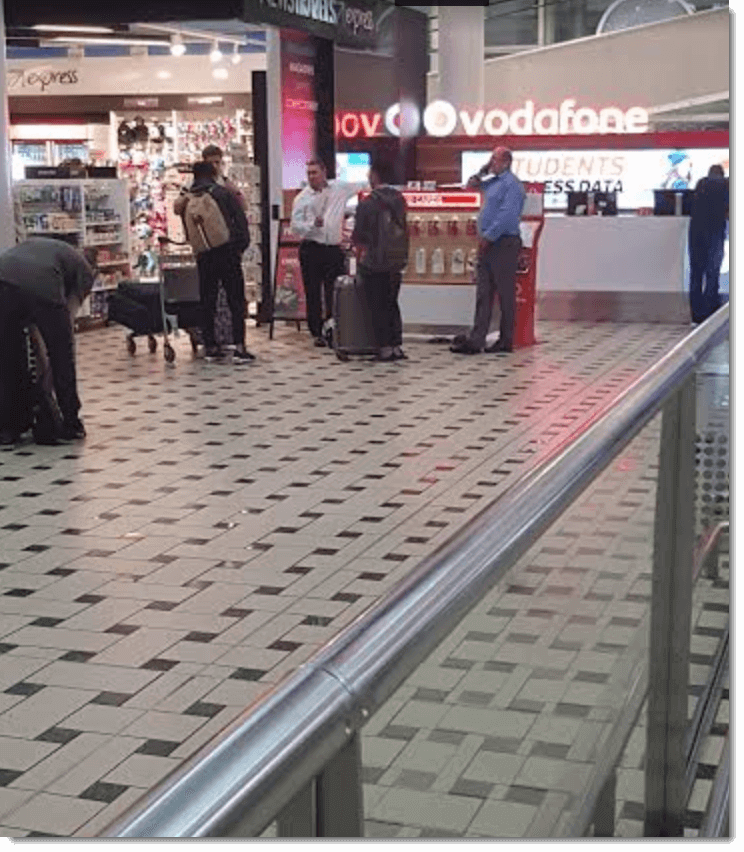 what if my client is not at the meeting place?
1. Drive up to the cul-de-sac to pick up your clients. If they are not there, continue driving over to the allotted parking bay for your vehicle (see image below)
All our vehicles are 5-11 seats except our luxury sedan and bus…
2. Do not stop or park at the curbside pick up point. This cul-de-sac is for drive-by curbside pickups only.
3. Your vehicle can be parked in the alloted parking bay, just as you would if doing a meet and greet .
4. Call your clients to coordinate another pass by the pickup area. Alternatively, give them instructions to walk over to your vehicle where it's parked (see below diagram).